National Be A Good Teammate Day  | July 22
Good teammates make being part of the team worthwhile! That's why on July 22, National Be a Good Teammate Day recognizes the sacrifices, kindness, and generosity of these selfless individuals.
Whether it's sports, family, community, school, or work, everybody is part of a team. Use this date to show your appreciation to those willing to put the needs of their "team" ahead of themselves.
Teamwork may make the dream work, but good teammates are what make the team work!
How to Observe:
On National Be a Good Teammate Day, make an extra effort to express your gratitude to team members who go above and beyond the call of duty. Honor their contributions to the team with a boisterous "Thank you!" or a well-deserved high five or hug.
Other ways to celebrate:
• Make an unsolicited "good teammate move" (i.e., a selfless act of kindness) for someone on your team
• Take a teammate to lunch
• Gift a teammate a copy of The WE Gear
• Write a handwritten note letting a teammate know what specifically you appreciate about him or her
• Reconnect with a former teammate and reminisce about fun times of the past
• Share a photo of you and a teammate on social media and use the hashtag #NationalBeAGoodTeammateDay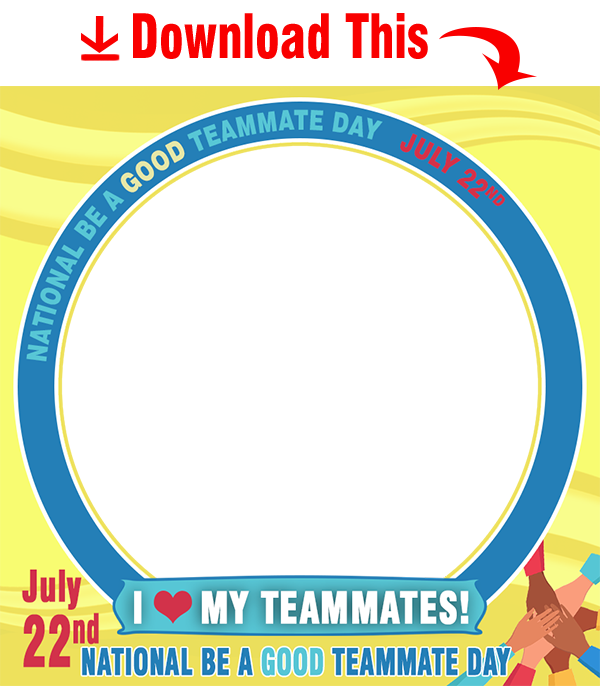 One final note…
If you are the type of teammate whose selflessness and kindness goes unrecognized, reward yourself on July 22nd with a slice of victory cake. You've earned it!