Teammate Tuesdays Volume VI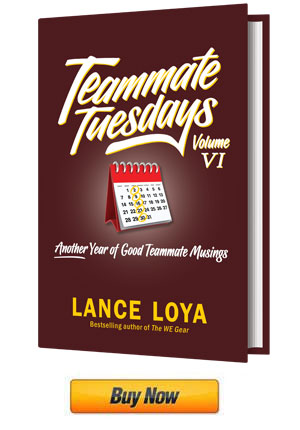 What does it truly mean to be a good teammate?
In this sixth installment of the Teammate Tuesdays series, Lance Loya once again chronicles a year of his journey exploring the art of being a good teammate. His musings unfold through fifty-two short, inspiring, easily digestible chapters, including:
The Power of Virality
Embracing a Team Ego
Johnny Appleseed's Strategy
Five Rules for Confronting Teammates
How Compliments Complement
Four Ways to Crush Cliques
Through compelling anecdotes and insightful observations, readers discover that teamwork doesn't happen without the emergence of good teammates—individuals who put the needs of their team ahead of any self-serving agendas.
Like the previous volumes, Teammate Tuesdays Volume VI is guaranteed to make team leaders think about what it truly means to be a good teammate.
The Teammate Tuesdays book series can be read in any order. Each chapter in each volume is an independent story. Topics covered in this edition include virality, gallantry, and redemption. There are stories about Taylor Swift, grizzly bears, and the origins of National Be a Good Teammate Day. Readers will also be introduced to a variety of different types of teammates, like Ketchup Teammates, Sandpaper Teammates, and Pink Shirt Teammates.
If you are seeking ways to improve teamwork and facilitate greater investment on your team, then this is the book for you! It is loaded with leadership insights to inspire struggling team members.
*For personalized copies or bulk order pricing, please email info@coachloya.com.
Check Out the Entire Teammate Tuesday Series:
(*The Teammate Tuesdays book series can be read in any order. Each chapter is an independent story.)