Teammate Tuesdays Volume V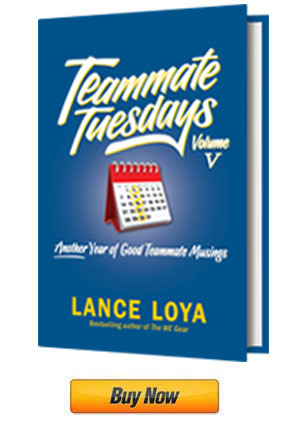 What does it truly mean to be a good teammate?
In this fifth installment of the Teammate Tuesdays series, Lance Loya once again chronicles a year of his journey exploring the art of being a good teammate. His musings unfold through fifty-two short, inspiring, easily digestible chapters, including:
The Humility to Accept Help
Putting Who First
Twenty Ways to Be Coachable
Keeping Stress from Becoming Distress
The Parachute Packer Standard
Breaking the Brutal Truth
Through compelling anecdotes and insightful observations, readers discover that teamwork doesn't happen without the emergence of good teammates.
Teammate Tuesdays Volume V is guaranteed to make you think about what it means to be a good teammate. Prepare to be inspired!
For personalized copies or bulk order pricing, please email info@coachloya.com.
Check Out the Entire Teammate Tuesday Series:
(*The Teammate Tuesdays book series can be read in any order. Each chapter is an independent story.)