"The WE Gear" made the list! Click

HERE

to see full article.
The WE Gear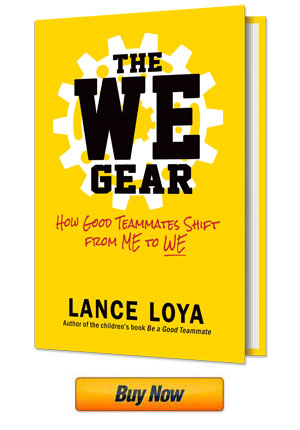 "Selfishness sinks ships: friendships, partnerships, relationships, championships, even leaderships. Like an iceberg tearing through the hull of an ocean liner, selfishness will inevitably send all of those ships plummeting to the depths of the abyss."
Are you tired of selfishness contaminating your team? Are you looking for strategies to help those on your team become better teammates? Would you like to become a better teammate?
Everyone wants teamwork on their team, but teamwork doesn't happen without good teammates—individuals whose unique way of thinking propels their team to success no matter what team they're on. Whether it's sports, family, school, work, or friends, the attitude is similar.
The We Gear takes you inside the fascinating mindset of a good teammate.
Through inspiring stories and powerful lessons, you'll explore the art of being a good teammate while discovering the five keys to shifting your focus from me to we.
Most people operate in the me gear: What's in it for me? How does this benefit me?
Good teammates take a different approach. They abandon self-serving motives and consider what's best for their team. Their approach improves team dynamics and applies to situations ranging from bullying to addiction.
If you want to be a better teammate, coach, teacher, employee, boss, spouse, friend, or parent, The WE Gear is for you!
For personalized copies or bulk orders, please email info@coachloya.com.
Praise for The WE Gear
"Not everyone in your organization can be the star, but everyone can work toward being a great teammate. Loya's book will help you make that happen."
—Forbes.com
"I highly recommend this book by Lance Loya."
—George Raveling
Naismith Hall of Fame/Former Director of Nike Basketball
"Great book…enjoyed every page"
—Neal Brown
Head Coach, West Virginia University Football
"The WE Gear shows how you can win at business and life with good teammates. As a Disney executive for over a decade, every single Cast Member played their 'role in the show' and it was a true honor to watch the teamwork make our guests' dreams work!"

—ROSEMARY ROSE
President of FACE Hospitality and  Former Vice President of Walt Disney World
"With The We Gear, Lance Loya provides the tools (the gear) necessary to make us all better teammates. This book is a must-read for any coach or leader looking to improve the teamwork within their organization."

—TONY WINGEN
Head Coach, Carnegie Mellon University Men's Basketball and Chairman of the NABC Committee on Academics
"Lance Loya has done an incredible job of providing simple yet powerful messages to help anyone become a better teammate.  If you want to take yourself and your team to the next level, then shift into the we gear!"

—TAMI MATHENY
Author of This Is Good and Founder of Refuse2Lose Coaching
"Being a good teammate does not require talent. Lance Loya brings awareness to good teammate ideals and challenges us to self-evaluate ourselves through his five keys of A.L.I.V.E. This unique acronym and approach to developing good teammates is inspiring and spot on. Less me gear, more WE GEAR!"

—MISSY WEST
Co-Director of Beyond the Game Academy and Former Duke University Women's Basketball Standout