A little over a month ago, I had the pleasure of speaking at a fundraising event for Southern Cross Service Dogs, an organization that provides trained service dogs at no cost to veterans with disabilities.
The "Always Beside You Gala" was an inspiring event born from an unfortunate premise.
Twenty-two veterans commit suicide every day. The compounded effects of post-traumatic stress, battle-related injuries, emotional trauma, and the sudden loss of a military identity leave many veterans experiencing a void in purpose.
Studies have shown that pairing these emotionally at-risk individuals with service dogs can enrich the quality of their lives and provide them with independence, fulfillment, and an increased sense of value.
Sadly, there is a shortage in the availability of trained service dogs. Not every veteran who could benefit from being paired with a service dog is able to get one. This is a problem—a big problem.
And like all big problems, this problem is best attacked through a team effort.
Southern Cross Service Dogs recognized that fact and is working to build a team that strives to provide service dogs that exemplify the motto "Always Beside You"—a motto I consider to, incidentally, be the perfect description of a good teammate.
At the gala, Josh Aronson, the Academy Award nominated director of the film To Be of Service, spoke about the incredible bond he witnessed between veterans suffering from post-traumatic stress and their service dogs.
Jon Bon Jovi thanked the audience for their support for the gala's worthy cause, before introducing the video for his song "Unbroken," which he wrote for the Aronson's film.
Cole Hauser, who plays Rip on the hit television show Yellowstone, auctioned off a trip to go horseback riding with him on the show's Montana set. (*FYI, former New York Yankee outfielder Johnny Damon made the winning bid!)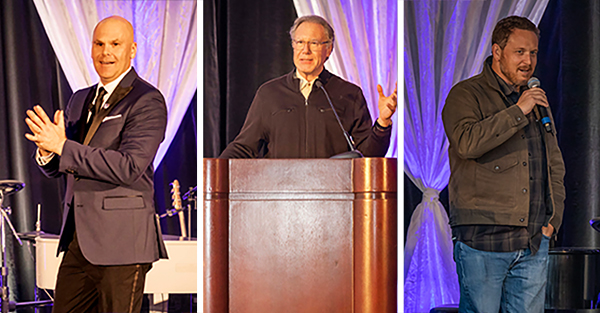 Everyone who attended the gala was interested in the event's mission. It was important, however, for them to be moved from being interested to invested.
Training service dogs is an expensive process. It can cost upwards of $50,000 to train a single dog. Without the financial means, there can be no mission.
When I took the stage at the gala, and my charge was twofold: 1. Get the audience to see themselves as being part of the Southern Cross team effort, and 2. Motivate the audience to become invested teammates.
I began by outlining the art of being a good teammate. I encouraged them to all become A.L.I.V.E. (Active, Loyal, Invested, Viral, and Empathetic) teammates and then ended my talk with the following assertion:
"When you get a group of MEs to become a WE, you create the most powerful catalyst for change on the planet—a motivated US. The veteran needs the dog. The dog needs Southern Cross. And Southern Cross needs us."
Whether it's an audience at a fundraising event, a sports team, a sales team, or a church congregation, creating a motivated US is always the best path to bringing about change. A motivated US takes ownership of the problem and pursues the solution with relentless resolve.
Service dogs bestow unconditional love, offer steadfast support, and provide unwavering companionship—just like a motivated US.
As always…Good teammates care. Good teammates share. Good teammates listen. Go be a good teammate.
*If you would like to get involved or learn more about Southern Cross Service Dogs and their mission, click HERE.

Would you like to receive the Teammate Tuesday blog on a regular basis? Do you know someone who would? Join our mailing list for bonus insight and inspiration. You'll never miss another edition again! Sign up
here
.