Marliese Marie is a brilliant photographer. She works closely with acting and modeling agencies in commercial hotbeds like New York, Atlanta, Miami, Orlando, and Los Angeles.
Clients find her to be creative, personable, and exceptionally gifted at capturing the "right" moment. In her hands, a camera is wielded like a wizard's wand.
I had the chance recently to watch Marliese employ her magic during a photoshoot for an upcoming project and I became instantly enamored with her process.
Most photographers are quick to assert their vision for the shoot onto the subject. But Marliese seemed more interested in learning about my vision. She wanted to know how I wanted to be seen in the photos.
"Is there a word to describe the look you're after?" she asked.
I thought about her question and said, "Approachable." I help team leaders create better individual teammates. They will be reluctant to bring their issues to me if I don't seem approachable.
Marliese nodded her head, asked a few follow up questions, pondered each of my responses, and then went to work. What ensued was an enlightening exercise in trust, empathy, and the art of being a good teammate.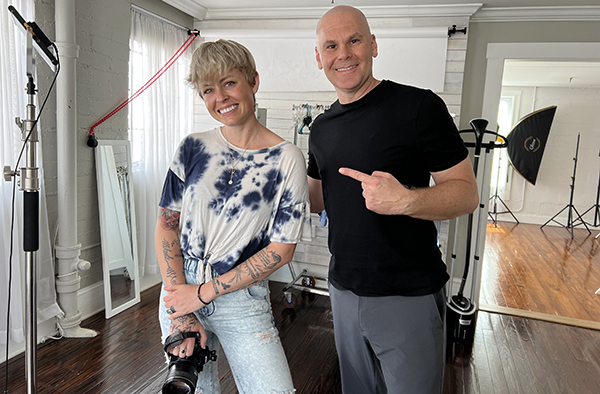 I knew I couldn't control the sightlines Marliese chose, how close she zoomed, nor the way she manipulated the backgrounds. I had to rely on her expertise—which required trust.
She knew she couldn't just assert her creativity onto the project. She had to first gain an understanding of my objectives—which required empathy.
The combination of my trust and her empathy enabled our rapport—which transformed my vision and her vision into our vision.
Marliese's willingness to see challenges through another's lens, if you'll pardon the pun, is precisely what makes her a good photographer. It is also what makes her a good teammate.
You will fail as a teammate if you only see others' challenges from your perspective. To be an effective member of your team, you must endeavor to see your teammates' challenges from their perspective.
You'll also fail as a teammate if you don't trust the other members of your team. To be an effective team member, you must endeavor to have faith in your teammates.
As always…Good teammates care. Good teammates share. Good teammates listen. Go be a good teammate.

Would you like to receive the Teammate Tuesday blog on a regular basis? Do you know someone who would? Join our mailing list for bonus insight and inspiration. You'll never miss another edition again! Sign up
here
.